Video: UNEP Honours Sylvia Earle for Her Lifetime Achievement as a "Champion of the Earth"
"We have through all of human history taken from the natural world without understanding the limits."
These are the words of Sylvia Earle, renowned oceanographer and author of South African Coasts: A Celebration of Our Seas and Shores. The United Nations Environment Programme (UNEP) has honoured Earle with a Lifetime Achievement Award as a Champion of the Earth.
UNEP has shared a video of Searle speaking about where her love for the ocean came from, why the ocean is worth protecting, and how each and every person can make a difference:
"We have to respect the natural systems as the source of our wealth, the source of our health, the source of our very lives.
"Our highest priority should be to make the world a hospitable place for our children."
Read UNEP's article on Earle, and watch the video:
Dr. Earle's achievements appear as boundless as the oceans she works so hard to protect. She is the founder of Deep Ocean Exploration and Research Inc., of Mission Blue and of the Sylvia Earle Alliance. She is also chair of the Harte Research Institute's Advisory Board, Chair of the Advisory Council for the Ocean in Google Earth, and leader of the National Geographic Society Sustainable Seas Expeditions.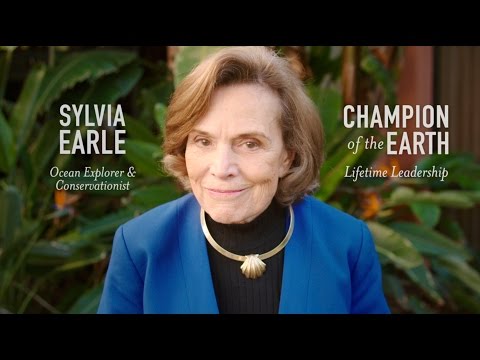 Also read:
Book details